Dual Head Diaphragm Pump Brushless Oil-free Water Pump 600ml/min
Micro Air Pump Aquarium Air Vacuum 4.2L/min
YWO2 micro diaphragm pump is simply designed according to the principle of positive displacement pump. It is to control the inlet and outlet of the diaphragm. After forming a power drive, the transmission mechanism pushes the piston to reciprocate and the diaphragm is driven back and forth by hydraulic pressure to suck and discharge the liquid.
Main Functions and Features:
-YW02 can be used for vacuum, pressure or alternating vacuum and pressure operations.
-YW02 is ideal for compact, high flow, wide pressure ranges, long-life, low noise applications.
-YW02 series pumps rely on our unique brushless dc motor design, for maintenance - free performance set a new standard.
-YW02maximize flexibility by providing multiple installation options.
-Our 100% oil-free and grease-free diaphragm pump and compressor designs maintain the purity of the system and pass the international certified.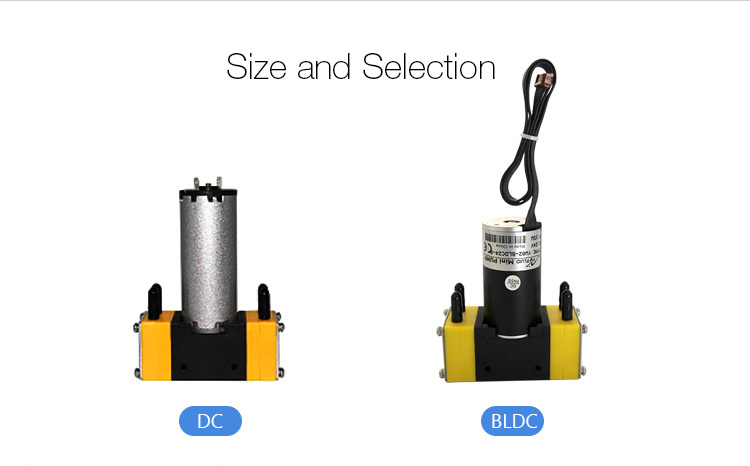 Model
DC
BLDC
Motor type
Brush motor
Brushless motor
Pump Assembly Rated Life
2000Hrs
5000Hrs
Media
Gases and liquid
Pressure range
0.1Mpa
Vacuum range
-0.05Mpa
Gas flow
4.2L/min
Liquid flow
600ml/min
Operating Environment
0-40℃
Head Configuration
dual
Nominal Motor Voltages
12V,24V Other voltage can be customized
Product Applications:
Laboratory equipment Medical equipment Family usage
liquid sampling diabetes mellitus test analyzer drug delivery
liquid distribution hemoglobin analyzer green plant drip irigation
liquid transmission dental care dishwasher
liquid chromatography endoscope bonsai irigation pump
mercury analyzer sterilizer on premise laundry
liquid packing air mattresses dry cleaning machine
turbidimeter blood analyzers sprinkler irrigation
refractometer blood pressure moniors drinking fountain
reagent sampling compression therapy garden sprayer
chlorofluorocarbon decompos- dental carts vacuum cleaner
ing unit dialysis machine