Red Laser Line Generator Module
Our Laser module is make up with high precision laser diode and APC, ACC drive circuit and coating optical glass lenses with high performance. With high reliability, stability, strong anti-interference, good consistency, long service life and so on.
Worldhawk offers a range of lasers including a broad selection of Laser Diode Modules in colors such as red, green, blue, or violet. These laser module can be used in Industrial marking devices, laser medical equipment, stage lighting and laser targeting devices, Machine vision, Laser Alignment, Laser Positioning Surveying Instrument, Laser Sight and so on.
Wavelength(color):
-Blue-violet (blue): 405nm, 450nm
-Green: 520nm, 532nm
-Red: 635nm, 650nm, 658nm, 660nm, 670nm,685nm
-IR(infrared): 780nm, 808nm, 830nm, 850nm,
905nm, 940nm, 980nm, 1064nm
Beam model: Cross line, Straight line, Dot(Point)
Output Power: 1mW ~ 200mW
Certification: CE/ FDA/ Rohs.
Note:
Laser beam is a super-bright light with large-density energy, so you should be careful to avoid injury or accident during operation.Eyes should never been exposed to the laser beam or its reflection.Laser beam should never be pointed at flammable substances such as alcohol, gasoline, etc.
1) Line laser module have two kinds, one is powell lens laser module and the other is traditional lens line laser module, Powell lens line laser module has more higher quality and stability. When you choose the powell lens line laser module, the fan angle for powell lens is must need.
2)Working distance: Customized according to the customers. Or provide the adjustable laser module when there is no constant working distance.
--Product Show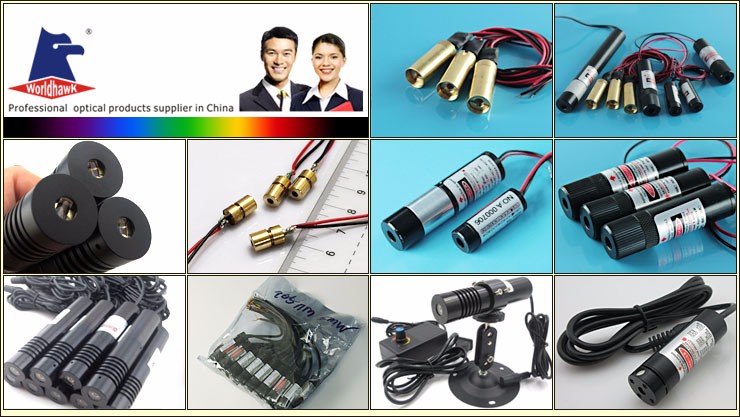 --Specification (Red Line Laser Module)
Wavelength (nm)

635nm 650nm 658nm

670nm

685nm

Output Power

1mW 2mW 5mW 10mW 20mW 50mW 100mW 150mW 200mW (Optional)

Operating voltage

DC 3V, 4.5V, 5V, 9V, 12V (optional)

Fan Angle

10° 30°,45°,60°,90° (

10°~ 120°

)

Curvature

≤1mm @5m

line width

The smallest line width is 0.5mm on the 50cm distance

The smallest line width is 0.8mm on the 1.5m distance

The smallest line width is 2mm on the 6m distance

The smallest line width is 3.5mm on the 10m distance

Laser Class

Ⅱ Ⅲa Ⅲb

Beam mode

Red Line Laser Modules

Operating Temperature

-10°C~70°C

Storage Temperature

-40°C~80°C

Dimentions

9*23mm, 10*30mm, 12*40mm, 16*70mm, 22*110mm, 26*110mm or as request

MTTF

Fixed focus, the expected lifetime is more than 10000 hours

Accessories (optional)

Special power source and Bracket

Packaging

Anti Static Bag
--Clink here and send your RFQ, we shall respond in 24 hours